Ovenproof packaging material for all ovens
Packaging frozen food is now facilitated by an extrusion coated lightweightpaperboard. Unlike aluminium containers, the material can be heated in microwave, hot air and conventional ovens. In addition, it is reported to be more environmentally-friendly thanalternative plastic solutions. The material is called Ensoven Performa and has been developed by Finnish Enso Paperboards in Imatra.The packaging is said to be suitable for, for example, ready-cooked dishes, vegetables, fish and ice-cream.
"The increasing demand for ready-cooked dishes which can be prepared in both microwave and conventional ovens, has led to new requirements for functional and environmentally-friendly packaging. Ready-cooked dishes packed in Ensoven Performa can be heated directly in all types of oven and don't require any outer packaging. In addition, the material is recyclable and can be combusted without harmful emissions", says Yrjö Aho, Sales Director at Enso Paperboards in Imatra, Finland.
The material is suitable for a variety of end uses, e.g. trays, cups, bowls and lids. Due to high stretch
performance and rigidity, the lightweight paperboards can be used both for large and deep forms. In order to
guarantee high microbiological and sensoric pureness (odour and taste), the raw material contains only virgin fibres, i.e. no recycled fibres are used. According to the manufacturer, packages made of Ensoven Performa can be deep frozen, defrosted and reheated without any risk of leakage.
The material is suitable for different types of extrusion coating (for example PP and PET). This enhances the printability and heat resistance (up to 230 degrees ºC, about 440 degrees ºF). The high temperature resistance means that it can also be used for baking and preparation of semi-cooked dishes.
"In combination with our paperboard based lid material, Enso Performa PET Lid, we can now offer a complete range of ovenproof packaging solutions for deep frozen food-stuffs. Unlike aluminium or plastic based containers, our new lightweight paperboard is suitable for multi-colour printing. This increases the opportunities to produce both practical and attractive packaging solutions', says Yrjö Aho.
For further information please contact:
Enso Marketing Co. Ltd. Enso Oy, Enso Paperboards
Enso House, New Mill Road Yrjö Aho, Sales Director
GB-ORPINGTON, Kent BR5 3QA FIN-55800 Imatra
tel. +44 1689 836 911 tel.: +358 2046 121
fax +44 1689 829 732 fax: +358 2046 24720
Internet: Imatra.Paperboards@im.egimk.enso.com
Press release images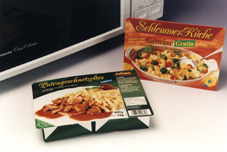 Ovenproof packaging material for all ovens