For further information, please contact:
Carl Norell
Press officer
tel. +46 72 241 0349
Publications

Published on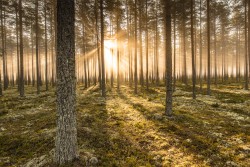 Stora Enso has launched a comprehensive biodiversity programme and related targets for its land holdings in Sweden. The programme, which covers the Company's forest land in Sweden, has five focus areas, each with specific actions and measurable targets for 2030.
Stora Enso and packaging technology company Pulpex join forces to industrialize the production of eco-friendly paper bottles and containers made from wood fiber pulp. These renewable products will offer an alternative to PET plastics and glass. The exclusive partnership leverages Stora Enso's formed fiber technologies and ability to convert end-products at an industrial scale.
Packaging frozen food is now facilitated by an extrusion coated lightweightpaperboard. Unlike aluminium containers, the material can be heated in microwave, hot air and conventional ovens. In addition, it is reported to be more environmentally-friendly thanalternative plastic solutions. The material is called Ensoven Performa and has been developed by Finnish Enso Paperboards in Imatra.The packaging is said to be suitable for, for example, ready-cooked dishes, vegetables, fish and ice-cream.