Environmentally friendly vehicle mover with capacity to move up to 5 tonnes
It should be possible to move vehicles weighing up to 5 tonnes in a simple and environmentally friendly way, e.g. indoors in design departments, production areas and workshops. This is the opinion of Famek AB, which is now launching the battery-operated Stringo 550 vehicle mover. The vehicle is ready for transportation within a five second loading time.
Earlier models are already successfully used within the automotive industry. The maximum 5 ton capacity means that it is now possible to use the Stringo 550 for anything from light trucks to buses, design studio clay models to test cars filled with heavy equipment as well as for.
"The benefit of our new model is its capacity to handle large as well as small vehicles," says Göran Fahlén, President of Famek AB.
Environmentally friendly, easy to handle, safe
Standard on the model is the 1,500 W electric motor and 24 V 360 Ah battery. Loading a vehicle takes approximately 5 seconds and the maximum speed is stated as being 6 km/h. The battery can be re-charged overnight (8 hours). The motor output and battery capacity can both be increased as required and the track width is adjustable.
From an environmental point of view, the Stringo 550 requires no specific ventilation and the electric operation also ensures that the car mover is virtually silent.
Copes easily with thresholds and "rolling roads"
A ride-on operator's platform is included as standard, as are the battery indicator and the hour meter. The turning radius is equal to the length of the moved car plus 800 mm. Furthermore, the new Stringo 550 has an adjustable ground clearance of between 50 and 120 mm. This means that the vehicle mover can be driven over small bumps and be placed in dynamometers for e.g. driving and wind tunnel testing.
The model is equipped with a double safety system, besides an emergency brake it stops automatically should the operator loose his grip on the controls, i.e. the machine stops when the handle is released.
"The new Stringo 550, with its large capacity and hydraulic press arms, has no competition whatsoever on the market," says Göran Fahlén. "We anticipate that the machine's properties will open up many new areas of application, not only within the motor trade."
- - -
The Stringo series has been developed and manufactured by Famek AB, Nyland, Sweden. The company has around 14 employees and recorded a turnover of SEK 17 million in 2001.
Previous models are already being used by companies such as: Audi, BMW, Fiat, Ford, Jaguar, Nissan, Renault, Rolls Royce, Opel, Volkswagen and a large number of car dealers.
For further information, please contact:
Göran Fahlén, Famek AB, tel. +46 (0)612-280 00.
Website: www.famek.se
E-mail: info@famek.se
Press release images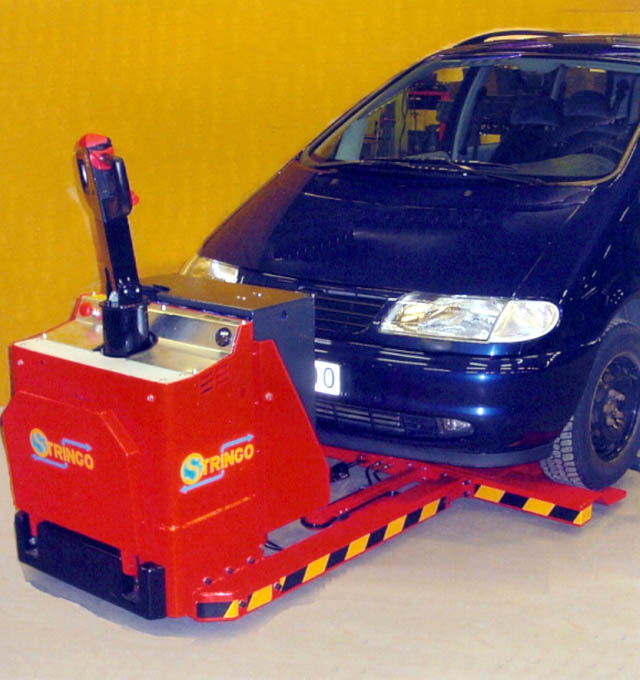 Environmentally friendly vehicle mover with capacity to move up to 5 tonnes