Metso Outotec Corporation,
Töölönlahdenkatu 2,
FI-00100 Helsinki, Finland.
Publications

Published on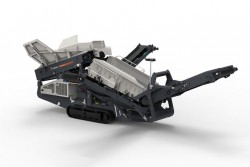 Metso Outotec is adding two new products to its Nordtrack TM  mobile crushing and screening range. The Nordtrack S2.5 mobile screen is a small size, versatile scalping screen designed for small job sites and a variety of applications. With a compact and light-weight structure, a highly efficient two-deck screen, and a wide selection of different screening media, it is the perfect solution for construction contractors with frequent changes in site locations or simply as a rental unit.
Metso Outotec to deliver two energy-efficient flash evaporation plants to NALCO's alumina refinery in India