Section: Pankaboard Oy
Pankaboard, a leading Finnish specialty cartonboard producer, will open a new sales office in the UK, to strengthen its local presence in the market.
Pankaboard is reintroducing its main cartonboard grades PankaBrite and PankaWhite with clearly improved product features and performance. Over the past year the company has made substantial efforts and investments in order to bring forward the overall product quality of its major packaging grades. As a result of this determined work Pankaboard is now proudly presenting cartonboard grades, which are bulkier, stronger, optically whiter and which are remarkably improved in terms of sensoric properties. In its production Pankaboard combines sustainable forest management with high ecological and environmental values.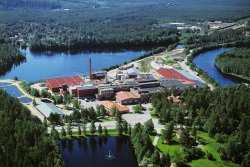 Finland-based Pankaboard added to its environmental credentials after securing a certificate for complying with the latest version of FSC (Forest Stewardship Council) standard. Since the beginning of 2012, the company has held the FSC chain-of-custody certification.