Ruukki Optim 550 W steel grade is weather resistant without coating
Ruukki is responding to the needs of its customers with the launch of Ruukki Optim 550 W structural steel, which combines the properties of weather-resistant steels and high-strength structural steels.
A structure made of weather-resistant steel develops a patinated surface. This means it needs no surface treatment and can withstand corrosion attack by the elements much better than conventional structural steels.
In addition to its weather-resistance, the high strength of the steel can be utilised by machinery and equipment builders to lighten the tare weight of mobile machines and thus increase their payloads. This in turn reduces overall fuel consumption.
If colour coating is desired, it adheres to weather-resistant steels better than to conventional structural steels.
"These steels are ideal for use in various rolling stock applications, as well as in the lattice structures of power line pylons and in agricultural trailers, for example," Thomas Hörnfeldt, Senior Vice President at Ruukki.
Ruukki Optim is used in body structures in trams
Ruukki Optim 550 W steel grade is used, among other things, in the body structures of trams. The use of high-strength steels helps to lighten tram weight because the steel used can be thinner and still retain the properties required. A lighter tram structure means less energy is required to operate it.
Ruukki Optim 550 W complements Ruukki's range of weather-resistant steels. Ruukki Optim 960 W strength category steel grade, which was launched earlier, has been very well received on the market.
High-strength Ruukki Optim steels are made using a unique direct quenching process developed by Ruukki. In addition to Optim steels, Ruukki also manufactures hard Ruukki Raex wear-resistant steels.
For more information, please contact:
Sharad Rastogi, Country Manager, India, Ruukki Metals, +919820010446, sharad.rastogi@ruukki.com
Ryan Sanders, Country Manager, Australia, Ruukki Metals, tel. +358 50 31 44266, ryan.sanders@ruukki.com
Thomas Hörnfeldt, Senior Vice President, Ruukki Metals, +46 10 78 78414, thomas.hornfeldt@ruukki.com
Caption:
Ruukki Optim 550 W steel grade is used, among other things, in the body structures of the trams. The use of high-strength steels helps to lighten tram weight. © Rautaruukki Oyj
Press release images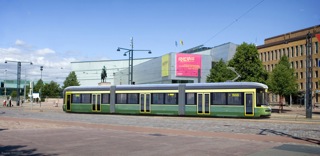 Ruukki Optim 550 W steel grade is used, among other things, in the body structures of the trams. The use of high-strength steels helps to lighten tram weight. © Rautaruukki Oyj