Stephanie Seege,
stephanie@kaakaochocolate.com  +44 741 534 3235
www.kaakaochocolate.com
Publications

Published on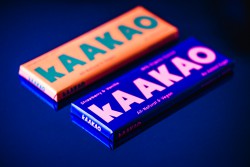 /ins kAAKAO has revolutionised the art of chocolate making by launching an innovative bar of chocolate sweetened with dates. It's suitable for vegans, people with allergies, intolerances, any religious eating preferences and even for diabetics. There is 25g sugar per 100g with a low glycemic index and one 40g bar of kAAKAO contains as little naturally occurring sugar as one medium sized green apple. Sounds great, right?