Chaiseri is a Thai company specialize in Defense Land system for Armored vehicle, Tracks system, Runflat, and maintenance, upgrading service for military vehicle. They design, manufacture, recondition, upgrade military vehicle and their subsystems to meet satisfaction of the growing needs of armed forces and internal security organization.
CHAISERI (HEADQUARTERS)
59, moo 6, Pathum-Banglen Road, KuBangluang,
Lardlumkaew, Pathumthani, 12140, Thailand
Tel .+(66)25814981-5, +(66)25817885-6
Publications

Published on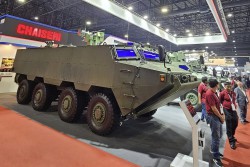 Chaiseri Defense, a prominent Thai defense company, has made waves in the defense industry by unveiling its 8×8 Armoured Wheeled Amphibious Vehicle (AWAV) at the Defense & Security exhibition held in Bangkok. The AWAV, a significant addition to Thailand's military capabilities, has garnered attention for its impressive features and capabilities. The AWAV, set to be delivered from mid-2024 onwards, comes with a substantial contract value of THB448 million (approximately USD12.6 million).