Teledyne LeCroy is a leading provider of oscilloscopes, protocol analyzers and related test and measurement solutions that enable companies across a wide range of industries to design and test electronic devices of all types. Since their founding in 1964, they have focused on creating products that improve productivity by helping engineers resolve design issues faster and more effectively.
Teledyne LeCroy (Headquarters)
Headquarters
700 Chestnut Ridge Road
Chestnut Ridge, NY
10977-6499
Phone: 800-553-2769 or 845-425-2000
Fax Sales: 845-578-5985
Email Sales: contact.corp@teledynelecroy.com
Email Support: support@teledynelecroy.com (Oscilloscopes, Waveform Generators, Signal Integrity)
Web Site: http://teledynelecroy.com/
Phone Support: 1-800-553-2769
Publications

Published on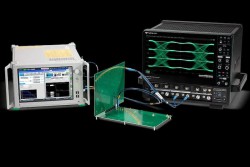 This support also can simplify receiver calibration by executing instances of Seasim simultaneously to reduce time to complete calibration.