SynQor Worldwide Headquarters
155 Swanson Road
Boxborough, MA 01719-1316
U.S.A.
Phone: 978-849-0600
Fax: 978-849-0601 (general)
Fax: 978-849-0602 (sales)
E-mail: info@synqor.com (general)
E-mail: power@synqor.com (sales)
Publications

Published on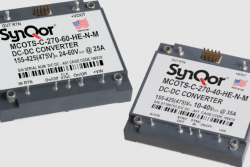 The MCOTS-C-270-40-HE and MCOTS-C-270-60-HE join the MilQor® series of high-efficiency Mil-COTS DC-DC converters. MilQor® DC-DC converters bring SynQor's field proven high-efficiency synchronous rectification technology to the Military/Aerospace industry.