There's a lot we all take for granted. We're counting on trams, subway trains and buses to take us through our cities safely and sustainably. We trust water treatment facilities to supply us with fresh water, and the food industry to safeguard us from allergens and bacteria. We expect wind farms to keep our lights on, and cars to be electric. There are a million other every day needs to satisfy – and a planet to take care of. 
In a world shaped by population growth, urbanization, digitalization and environmental concerns, industrial reality is the true challenge. And that's exactly where we at SKF want to be. Right at the centre, providing reliable rotation for the real world. 
Our expertise is built on the development, design and manufacture of bearings, seals and lubrication systems. And we also provide machine health assessment, engineering and remanufacturing services. But what we're really offering is an arena for innovation – an opportunity for our customers to use the tools we provide to explore, improve or rethink the performance of their rotating equipment. A place where even the smallest adjustment can make a big difference.
Publications

Published on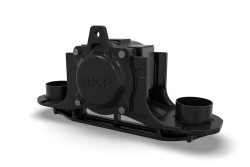 SKF has developed a new design for axleboxes to help customers reduce weight and improve the performance of bogies while reducing the environmental impact. The new Y25 axlebox, designed for trains weighing up to 25 tons, complies with industry standards.