TenneT Holding B.V. and TenneT TSO B.V.
Mariëndaal Centre of Excellence
Utrechtseweg 310, Arnhem, The Netherlands
https://www.tennet.eu/
Publications

Published on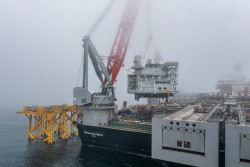 Hollandse Kust (zuid) Alpha, TenneT's high voltage connection for offshore wind farms Hollandse Kust (zuid) I and II is ready for use. TenneT completed the installation and energization of the offshore grid connection. Wind farm developer Vattenfall can now connect the wind turbines to the high voltage grid. On top of that, the Hollandse Kust (zuid) Beta topside was successfully installed this week.