Mühlwiesenstraße 40,
74321 Bietigheim-Bissingen, Germany
+49 (0) 7142/4 01-2 79
Publications

Published on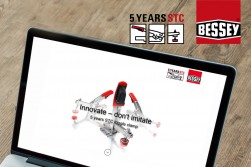 /ins . German clamping tool specialist BESSEY is providing an extensive range of information on self-adjusting toggle clamps on its new microsite http://toggleclamp.bessey.de in 12 languages. Designers, craftsmen and buyers can find technical details and interesting facts about the unique range of accessories as well as exciting excerpts from the history of the range.